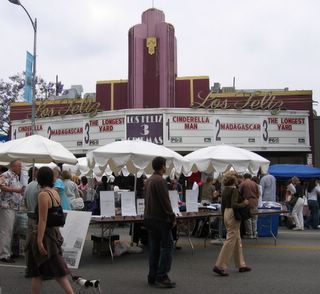 June gloom
be damned!
Los Felizians hit the street today for the annual Los Feliz street fair, which returned to Vermont Avenue after it's year in exile on Hillhurst.
It was the usual affair: lots of dogs, kids, a severe shortage of parking, and a surpising show of cowboy hats (western lovin' Eastsiders? Sante Fe by the sea?). The petting zoo pimped out a menagerie of farm animals for the kids to run their hands over. A folksinger on loan from Silverlake serenaded the crowd as they snacked on churros, slurped Robek's smoothies, and did not buy unclever Fred 62 t-shirts: "My Grandparents went to the Los Feliz Street Fair and all I got was this lousy t-shirt". Heh, heh.
Corny? Yeah. Fun? Hell yeah.
These kinds of things are the glue that holds a neighborhood together. We can all promenade up and down the street, checking each other out, taking the measure of the people we share our lives with. We can nod at the firefighters who are lounging next to their immaculately clean fire engines and know that these guys will be there when we need them. We can connect with the organizations, like the GGPNC and the LFIA, who work to make the neighborhood a better place. We can finally sample the wares of that restaurant we've been meaning to check out, doled out at a discount, and quickly wolfed down off of flimsy paper plates.
And, perhaps most importantly off all, we can pay a dollar to pet a mangy looking chicken.
Links to this post: